News
It is with a renewed sense of optimism that Holland Broadbridge has re-opened it offices, following Government announcement to ease the ban on property viewings and valuations.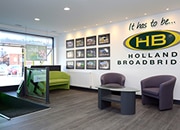 An office refurbishment programme at Holland Broadbridge is the latest investment to be unveiled by the leading Shropshire estate agent.
Under the leadership of PM Boris Johnson, it is with renewed energy and excitement that the UK enters 2020 to 'Get Brexit Done'.
What a blooming marvellous restoration project our clients have undertaken at Primrose Drive!