News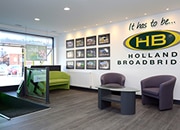 An office refurbishment programme at Holland Broadbridge is the latest investment to be unveiled by the leading Shropshire estate agent.
Under the leadership of PM Boris Johnson, it is with renewed energy and excitement that the UK enters 2020 to 'Get Brexit Done'.
What a blooming marvellous restoration project our clients have undertaken at Primrose Drive!
With the season of goodwill upon us, it's that time of year when house sellers may be hesitant in coming to market with their property.